Rob Levit provides inspirational, interactive, and useful talks and presentations for your company, club, group, and individuals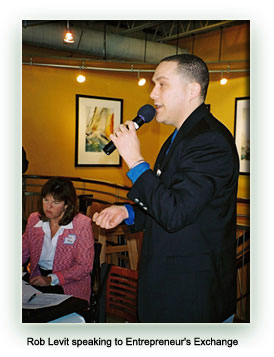 "The segment you taught and led, using scat singing and the discussion on the leader as artist, was not only informative but also provided a new framework through which the class could effectively think about leadership."
Executive Director, Leadership Anne Arundel www.leadershipaa.org
"Rob Levit was so inspirational and his amazing talk on Creativity was something that I was looking for during these long winter months. Thank you for having such an awesome support group every month for us entrepreneurs! Right now I am just bouncing off the walls with energy."
Cheryl K., entrepreneur
Jazz and Creativity -- What do jazz cats know about creativity that you don't? An exploration of improvisation, teamwork, and idea generation using classic jazz as the learning paradigm for creative breakthroughs.
Jazz and Creativity is also available with a performance and entertaining audience participation scat-singing jam session for your company! Rob is proud to be working in conjunction with innovation pioneer Charlie Prather on this program. Visit www.bottomlineinnovation.com for more information. Contact roblevit@roblevit.com for a description of the program!
Getting The Creative Ideas You Need -- Establishing Practical Daily Structures of Support to Grow and Sustain Your Creativity.
The Three O's -- What distinguishes a creative individual from someone grasping for ideas? Learn the answer in three easy steps (Observation/Ordering/Openness) and how to instantly apply them to your life and work.
Biography
Rob Levit, Maryland Hall for the Creative Arts Artist-In-Residence, is an award-winning working thinker, artist, and musician actively engaged in the creative process. He doesn't just talk about innovation and creativity, he lives it with tangible and outstanding accomplishments across several domains.
Rob Levit has the ability to simultaneously to explore the deep workings of creativity and then make them accessible and usable for individuals and groups is creating a huge buzz about his talks and presentations. A five-time consecutive recipient of the Maryland State Arts Council Individual Artist Award and one of the mid-Atlantic region's favorite musicians. His jazz trio was voted "Favorite Band" by readers of The Capital newspaper and "Best Jazz" by What's Up? Annapolis magazine. He is an accomplished speaker, visual artist, poet, and essayist who has released 15 CD's of music to critical acclaim.
He has given workshops and/or concerts for Leadership Anne Arundel, Maryland Hall for the Creative Arts, The Summit School, and numerous other organizations. In his Creative Outreach Program through Maryland Hall, he has worked to bring the joy of creativity and the arts to numerous schools, Boys and Girls Club, and Anne Arundel County Social Services. Mr. Levit was recently featured on the cover of Bay Weekly magazine and in Inside Annapolis magazine. He speaks to businesses and groups on the nature, importance, and practicality of the creative process and tours the country with his jazz group.
The Rob Levit Trio's CD Uncertain Path was played on NPR's morning edition and had garnered reviews from around the country. His Trio performs every Thursday at 49 West Café in Annapolis.
References and fees available upon request.
Contact: roblevit@roblevit.com