LIFE IS A NOTION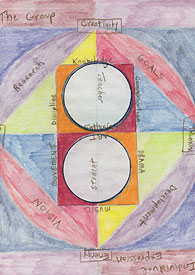 Life is a notion, real and imaginary motion
Tangled in feelings and actions simple and complex
Atoms of intentional energy released with care (or not)
And if not can do great harm as in the simplest glance
That signals the advance of a dreary day or way
Of treating another.
So if life is indeed a notion and you create it (thought being a vast ocean)
Then choose thoughts wisely and don't disguise them but provide them freely
From the soul unedited unbridled (not jarringly though honestly)
Expect a return on the investment of caring (or not) for your fellow man and
His way in the world.
The days hours and minutes pass (they go so fast) --
How does he spend them? Live inside his skin for a year:
Experience his fear loathing and personal pain but also his gains --
Love triumph and creative thoughts
His children wife friends and job -- in short, a life other than your vision.
Who knows, it may lead to a new decision about the notion that is life --
Its magnificent glow and maddening grand design.
Record what you find -- a testament to being alive but
Don't forget the dead while you strive.
The dead, too, can hear the voices from the earth.
Do they listen in despair or mirth at the legacy they've left
Perhaps bereft at the way we ignore (like they did when they were among the living)
The lack of giving and the use of force required to bring the masses in line?
Life is a notion and the common view is that we are all the same.
I cannot accept that -- for me, it's simply not true.
Rebel, rebel against the mundane!
Rob Levit
4/01/02
| Next Poem |